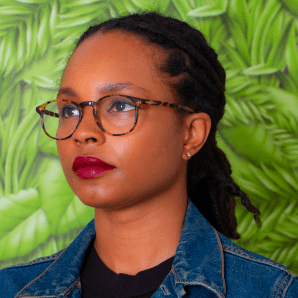 Ash is an artist, organizer and educator who has spent the last decade transforming DIY, hacker and experimental approaches to problem solving into formalized programs, projects, and collaborations. Her work and research use storytelling and speculative collaboration as frameworks to explore climate and social justice themes.
Ash is in the final stage of her appointment as Visiting Artist at the University of Rochester in NY, where she has been conducting research and developing curriculum at the intersection of art, technology and the environment. Prior to that she was artist in residence at Recess in Brooklyn (2019) and A Studio In The Woods in New Orleans (2018). In 2017, Ash worked with the Charles H. Wright Museum of African American History to develop and launch a precedent-setting public art installation and solar energy grid in Detroit. She has a Master of Fine Arts in Fiber from Cranbrook Academy of Art and a Bachelor of Arts in Communications Studies from University of Michigan.
Additional work and roles in the creative industries include: Owner of Good Lab, Detroit-based art studio and gallery (2016-2019); Co-curator of Detroit Pavilion at St. Etienne International Design Biennial (2017); Cultural Strategist + Producer for Creative Many Michigan (2012-2016); Public Art Manager for Midtown Detroit Inc. (2014-2015); Public Art Commissioner for City of Ann Arbor (2013-2014). Ash was born and raised in Flint, and has lived in Detroit's West Village since 2014.
Pronouns: she/they
ash [at] rootoftwo [dot] com