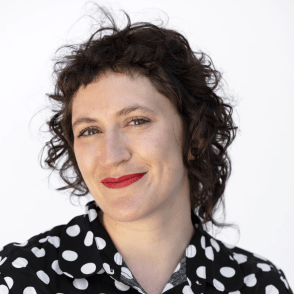 Lauren Rossi is a Detroit-based cultural producer. She is dedicated to supporting LGBTQI+, BIPOC, and womxn artists and creative practitioners with expertise in professional development, career consultation, grant writing, project management, research, facilitation, and strategic planning. In addition to her work for rootoftwo, Lauren is the Founder of Stellar Friend & Partner, a consultancy for artists and arts organizations.
In 2019, Rossi was co-curator of arts and culture for re:publica Detroit, in partnership with Europe's largest conference on the internet and digital society. From 2016–2020, she developed and managed the Kresge Artist Fellows professional practice opportunities program and led workshops to empower and inform the practices of creative practitioners throughout Southeast Michigan and beyond for Creative Many Michigan. She also worked as studio manager for an interdisciplinary artist based in Detroit, from 2016–2020.
Rossi was Program Coordinator for the 2015 Detroit Design Festival, as well as Education Program Coordinator for Public Programs and Student Engagement at the University of Michigan Museum of Art (UMMA) from 2011-2016. Prior to that Lauren served for five years as a founding member of the small team that worked to build the Museum of Contemporary Art Detroit (MOCAD) into one of the key cultural venues in Detroit.
She holds a BFA in Fine Art and Art History from Eastern Michigan University and is a 2017 Fellow of the Salzburg Global Forum for Young Cultural Innovators.
Pronouns: she/her/hers
lauren [at] rootoftwo [dot] com